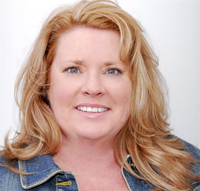 Libby Offnick
Broker | ABR, EPRO,SPS
980.722.2977
libby4home@aol.com
As a native of North Carolina, I was born and raised in Union County just outside of Charlotte.  As the oldest child  she was raised in a home with parents who were owners and operators of several businesses.  I was exposed early to a life of hard work and learned that you had to pay your dues to be successful.  I am the niece of one of Charlotte's first female real estate agents who is still licensed today.  I valued her opinions and thoughts on my career path.
During high school and college I was a competitive and strong athlete.  My tenacious spirit and enthusiasm was noticed by everyone and my professors believed that I would be successful and possessed endless energy.  I was elected as captain of several sports teams and assisted our athletic director with intramural sports in college.
As a graduate in Business from Wingate College I started my career with a young attorney in his new law practice.  It was a fast paced environment with a busy court schedule and real estate closings.  I immediately found my passion in real estate and took night classes to receive my North Carolina Real Estate License as well as attending Central Piedmont Community College for Paralegal training.  After a number of years I accepted a position with a Title Insurance Company and soon promoted to underwriter for commercial and residential real estate policies.
During my first few years in Charlotte I was approached by several law firms to work in their real estate departments and soon decided that I missed the personal contact of agents and joined a busy law practice.  She handled an average of 75-100 closing transactions per month and gained a vast knowledge of lending, title issues, sales and marketing.
In 1997 I married my husband, Drew, and we mutually decided that it was time to put my energy to work.  I decided to call a broker with RE/MAX that I knew from the law firm and was welcomed aboard.  In my first week as an agent I listed 20 properties and sold two homes on my first day.  I had found my niche and my friends and family knew it.   With a high energy level working 24/7 was not a problem.  I enjoyed the challenges that each deal offered and the excitement that comes with satisfied clients.
I trusted my "black book" of contacts that I had developed over the years…..from surveyors to attorneys, developers to insurance agents, I made sure that I had the right resources in place to support my real estate sales.
My philosophy was simple:  take great pride in offering my clients a comprehensive knowledge of the local marketplace, as well as expertise in creative marketing and financing.  I have built my real estate business on trust and hard work and dedication to giving a commitment that lasts well beyond the closing.