---
First Ward
---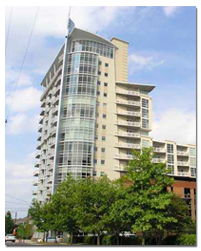 Charlotte's First Ward neighborhood has undergone major revitalization under a HUD HOPE VI grant, and is now one of the more desirable areas in Charlotte. Many new developments are planned and currently under construction, including UNC Charlotte's new academic building which will be part of an urban village project being developed by Levine Properties. Current plans for the urban village include a 4 acre park, 450,000 sq ft of office space, 2,700 residential units, 250 hotel rooms, 250,000 sq ft of retail space, and 450,000 sq ft of civic space.
Current attractions include: Charlotte Bobcats Arena, Spirit Square, ImaginOn Children's Learning Center, Levine Museum of the New South, and the Mint Museum of Craft + Design.
---
Second Ward
---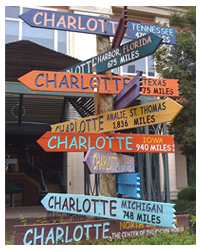 Located in the southeast section of uptown, Second Ward was known for decades as Brooklyn, a primarily African-American urban community.
Today, Second Ward is home to some of the areas high-end condominiums, including the Trust and the Radcliffe, which has a beautiful park called The Green. It is surrounded by the Charlotte Convention Center, the Bechtler Museum of Modern Art, the Harvey B. Gantt Center for African-American Arts & Culture, and the Mint Museum Uptown.
---
Third Ward
---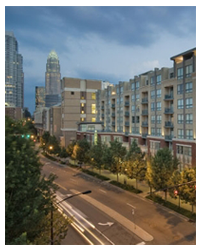 A turn of the century streetcar neighborhood, uptown's Third Ward is home to Bank of America Stadium and Gateway Village which is one of the state's largest mixed-use developments with 1,500,000 sq ft of office, shops, restaurants, and over 500 housing units.
Johnson & Wales University is expanding its campus in the Center City while the Mecklenburg County's Parks and Recreation Department has unveiled plans for an urban park in the district. Multiple condominium high rise towers have begun or are ready to begin construction.
---
Fourth Ward
---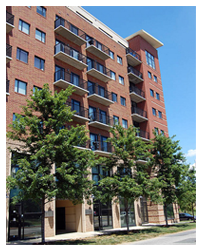 In the 1850's, Fourth Ward was a prosperous residential area, convenient to downtown businesses and shops. As residential development shifted to the suburbs with the opening of Dilworth in the late nineteenth century, all of Charlotte's original residential wards would see an eventual decline. By the 1970's, many of Fourth Ward's Victorian homes had been demolished or converted to boarding houses and offices. Through the combined efforts of civic and community leaders, Fourth Ward underwent a dramatic revitalization in the 1970's.
Today, visitors can enjoy the grand old Victorians with gingerbread millwork, charming front porches and beautiful courtyard gardens.